Our Story
Jenifer bought Forget-Me-Not Flowers in 2015 and renamed the business to Eden Floral and Events. Since then, Jenifer has worked hard to bring her own individual style to the flower arrangements and to the shop itself. We moved to our current location in 2019, which allowed Eden Floral to separate from mail-order style arrangements and focus to a bespoke, artistic style and philosophy.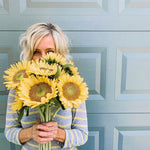 Jenifer
The owner, operator, and head florist of Eden Floral and Events. Jenifer's many aspects, including her role as mother to three darling boys, are an intricate part of her daily life in the shop. As she is an Oklahoma native, you might notice her distinctive cowboy boots! She has a love for woodland wonderlands, elegant old-world design, anything from world travels, and 70's music.
Kana
In pursuit of happiness, Kana left her IT career to immerse herself in the fields of flowers and plants. Her style of arrangement is organic, inspired by the growth of flowers in their natural settings, in gardens and wildflower fields. She also enjoys creating simple yet fun terrariums and succulent gardens.

In her spare time, Kana enjoys playing with her boy kitty Spiro, traveling with her husband and snapping lots of photos! Her soul craves  anything creative, from knitting and sewing to candle making! Creating something fun & beautiful for others fills her joy cup. 
Anna
Anna Darling has been a florist for 5 years and loves every minute. She particularly enjoys trying to portray the feelings of warmth and wonder she feels out in nature through her floral art. Specializing in weddings and events, she knows how to create exactly what her clientele envisions, with creativity and knowledge she has acquired from all around the kck and kcmo area. When she's not playing with flowers she can be found spending time with her four fur babies, her menagerie of other exotic critters, her human family, and loving all the other creatures she manages to find in her path. Her favorite flower is Mattihola Incana, AKA Stock, and her favorite rose is a Juliette.
Kelsey
Kelsey has been surrounded by flowers and art her whole life. An artist, photographer, and performer, she is deeply in tune with beauty and drama. These are aspects that she loves to incorporate in floral arrangements. Kelsey is also our resident web smartypants and graphic designer.